Overview
Grill & Barbeque, Mediterranean, Seafood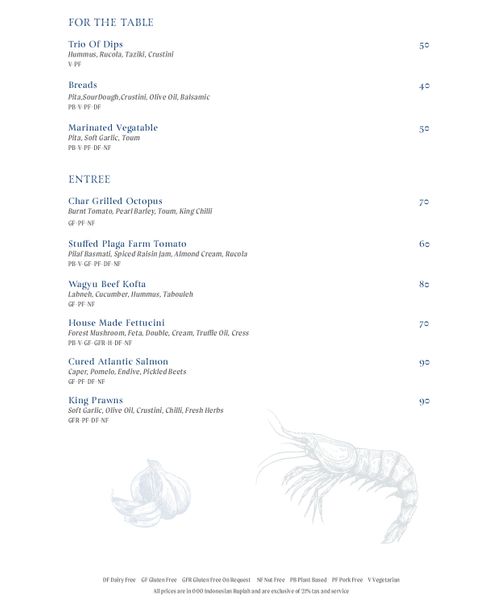 Address:
JL. Kayu Tulang, Banjar Uma Buluh No.1
Canggu, Kuta Utara 80361
Phone:
+62361 907 8620
Open hours:
Mon - Fri: 9am - 9pm Sat: 9am - 11pm Sun: 9am - 9pm
A Mediterranean menu plus sensational views of Bali's luscious rice fields equals Mezze Grill & Brasserie. This relaxed and stylish bistro makes for the perfect destination to while away a long evening.
Effortlessly fusing the outdoors and indoors, Mezze is beautiful in its modernity and seductive in its subtlety. Boasting panoramic views of some of Bali's most picturesque rice paddies, wherever you sit – be it on their breezy terrace or curled up on a sofa next to a huge window – the surrounds are the centrepiece of any table at this stunning spot.
Well, before you try their contemporary plates at least. To begin, indulge in fresh and local ingredients with the chargrilled octopus, perfectly paired with burnt tomato and pearl barley or explore other parts of the ocean with the cured Atlantic salmon and king prawns.
Fresh seafood continues to take the top spot with their brilliantly yellow paella that's brimming with squid, clams, prawns and chorizo. For meatier mouthfuls, the wagyu beef brisket is seductively rich and comforting while the roast pork belly and chicken souvlaki prove to be eternal crowd-pleasers. Round off a spectacular evening with the zesty lemon tart topped with a crispy whip of meringue and watch the sun dip behind the horizon. Suddenly Bali's unique magic becomes tantalisingly clear.
Book a First Table
Get 50% off the food bill for two to four people
Book a First Table
Get 50% off the food bill for two to four people